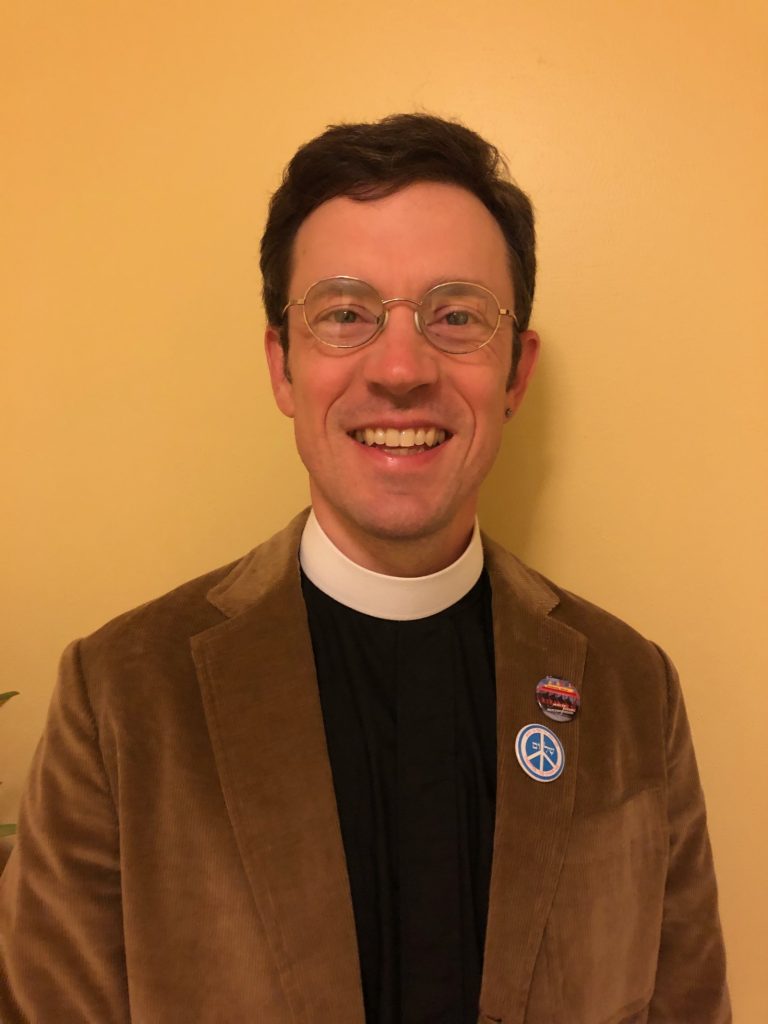 A little about the course of my ordained ministry: I attended seminary at Pittsburgh Theological Seminary (PCUSA), and Virginia Theological Seminary, from which I graduated in 2011. In both places I helped in the initiation of garden ministries that continue to this day. I served as curate for 3 years at St Paul's Cathedral in Erie, PA, where I worked with youth and elders, in pastoral care and neighborhood outreach. I served as rector at St Andrew, Aberdeen for 4.5 years, where I learned much about ministry and the human and natural worlds of coastal Washington. Since 2019 I have served in short-term interim, supply, and pastoral visitation ministry with multiple Episcopal and Lutheran congregations. I maintain a sundry website about prayer, craft, and earth care, boatandtable.org. I am currently in training for spiritual direction ministry.
I share life with my wife, Amy Seese-Bieda, a clinical social worker by profession, and our dog, a lively mixed-breed descended from rare lineages of the southern Olympic Peninsula. We enjoy walking together, as well as cooking, reading, and exploring town and wilder lands, and keeping our eyes out for rabbits, coyotes, and ravens. I enjoy visiting and keeping in touch with family and friends. I enjoy various outdoor pursuits, exploring the woods, and generally tinkering with plants, wood, charcoal, hand tools, old Pennsylvania heritage and foods, the fiddle and various crafts and projects.
Erin Durrett, Director of Music Ministries
Singing in churches of many different denominations during her childhood led Erin to become a liturgical musician, psalmist, and cantor in the Episcopal, Roman Catholic and Buddhist traditions with a fascination for vocal music in human history and prehistory. Currently Director of Music Ministries at Church of the Holy Spirit she also composes and sings for the Puget Sound Zen Center and acts as a song-holder for the people of Vashon and their indigenous neighbors. Active on many fronts she teaches near-shore ecology, advocates for the homeless and refugees, and provides free music and art workshops for low-income children.
Erin studied Early European Humanities at the University of Washington and the Early Music Institute at University of British Columbia, cantorial skills and psalmody at St. James Cathedral in Seattle and now teaches workshops on Chant as Spiritual Practice, The Harmony of the Spheres, Gregorian Chant, Celtic Spirituality, Chants of the Divine Masculine/Feminine, and the music and medicine of Hildegard Von Bingen with her friend, herbalist Jane Valencia.
Linda Deibell, Office Manager
Linda has served as church secretary at Church of the Holy Spirit since July 2015.
Linda has lived on the island for over 50 years, is a mother of three sons and a grandmother of six rambunctious treasures.
Before coming to Church of the Holy Spirit, Linda worked as a Pharmacy Technician at Vashon Pharmacy.
Linda enjoys spending time with her husband, Jay (of 40 years) and her two dogs, Tink and Tuki.
She also enjoys gardening, beading, and most of all, spoiling her grandchildren.
The Vestry is the decision-making body of an Episcopalian parish. Each Vestry member acts as a liaison to a committee or ministry focus.
Co-Senior Warden Bob Hawkins
Co-Senior Warden Rick Edwards